ALL ABOARD THE MANSATHAU CATAMARAN !
A delicious and informative trip around the Etang de Thau...
...departing from the port of Mèze on 'the Mansathan', Vivian Caumeil's catamaran you will be taken on an informative tour of the famous oyster farms of the Etang de Thau lagoon, then you will be invited to a wine tasting of three Beauvignac wines that complement Bouzigues oysters so well!
Vivian Caumeil is a former oyster farmer and therefore very knowledgeable on the subject.
Where:
Port de Mèze - 38 boulevard du Port - 34140 Mèze
Bookings* : Mansathau - Vivian Caumeil - 06 62 00 82 84
* By reservation only (24hrs ahead) - Every Thursday at Midday, from mid April to mid October.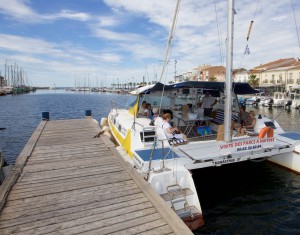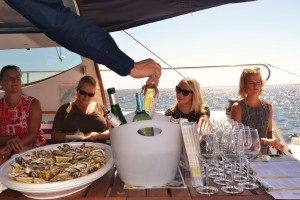 Visit the Mansathau website